yarra valley
Day Tour $165
Yarra Valley Wineries – Day Tour
Departing every day from Melbourne, our Yarra Valley Wine tours promise an entertaining, sociable and educational day out. With the help of our expert guides, you will discover the richness of the Yarra Valley's thriving wine industry.
Our tour takes place in our luxurious, comfortable, air conditioned bus, and although numbers are limited to 24, the typical tour size is 12-20. The tour is great value – here's what you can expect: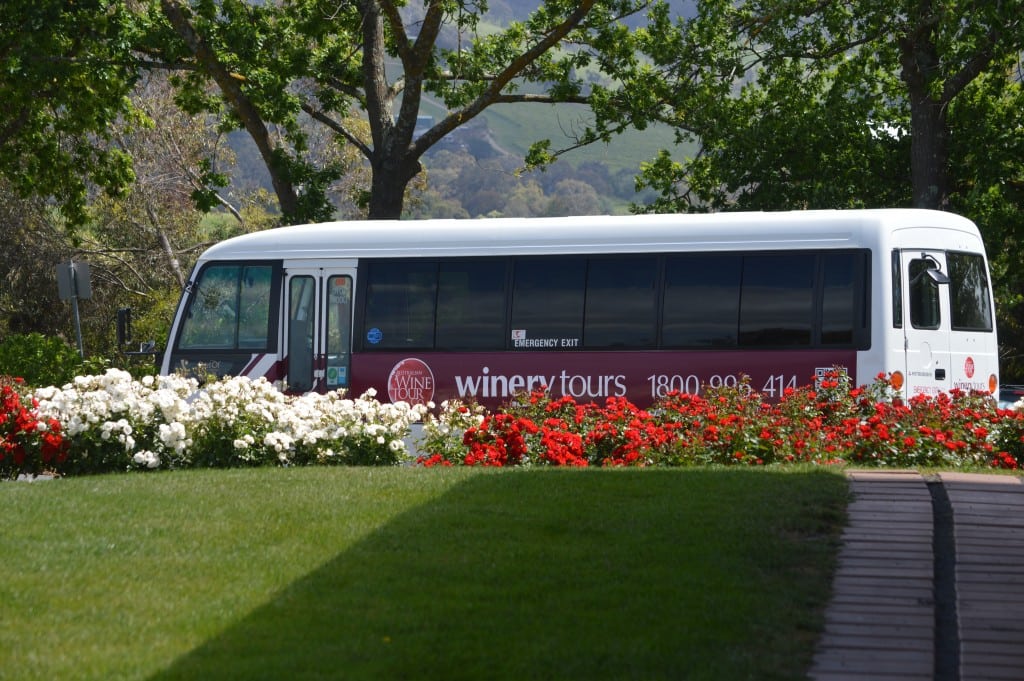 Winery Tour Features
Guidance from a genuine Wine Expert, who is there to entertain and educate you, not just to dazzle you with wine snobbery!
Tasting at the cellar doors at Yering Farm, Soumah of Yarra Valley and Greenstone Vineyards.
An a La Carte Lunch at Balgownie Estate, accompanied by a glass of the wine.
Departs 7 days a week all year guaranteed (except Dec 25 & 26)
Itinerary
9.00am – 9.45am

Collect from designated pick up locations as per list and map further down the page and enjoy a less than 1 hour journey to the Yarra Valley.

11.00am

Greenstone Vineyards

Greenstone is beautifully situated on a single site in the picturesque Yarra Valley, an hour's drive from Melbourne. The Winery and Cellar Door, which are nestled in to the base of the Christmas Hills, have unparalleled views of the Estate vineyard and Great Dividing ranges. It is here that winemaking operations are carried out, making Greenstone one of the most progressive wineries in the valley.

12.00pm

Balgownie Estate


Indulge in a guided tasting session at Balgownie Estate tasting table. Make your selection of wine for lunch and take your complimentary glass of wine to the eatery. Lunch includes main meal, a glass of Balgownie Estate wine & tea or coffee.

1.30pm

Yering Farm

Yering Farm is one of the Yarra Valleys most charming boutique wineries. It has stunning views, and a delightful sense of heritage. At the Yering Farm cellar door you'll experience traditionally-made wines, and see the antique copper wine-making equipment used by the Yarra Valley's pioneer vignerons.

2.45pm

Soumah of Yarra Valley


The Yarra Valley cool climate focus allows this winery to specialize in wine styles and varieties typical to northern Italy and south eastern France. With awards for Chardonnay and Pinot Noir and a passion for northern Italian varieties, you will be sure to find something pleasing while overlooking the rolling hills of the vineyard and the majestic Warramate Hills.

3.30pm

Depart the Yarra Valley for Melbourne.

4.30pm – 5.00pm

Return to Drop off locations.
*Included wineries, itinerary & timing may change without notice
Click here to download the itinerary
The buses used for this tour can carry up to 24 passengers. However, to preserve the conviviality of our tours our policy is to limit group bookings to 8.
Groups larger than 8 are welcome on our private groups.
Tour participants wishing to join an existing group booking may not be able to do so if their participation would increase the group size to over 8, but will be accommodated on a separate bus.
Please bring a refillable bottle of water as we strongly encourage drinking water throughout the day.
Tour Videos
For a preview of your Yarra Valley Wine Tour, check out some of the videos below.
And our guest Mari's fun filled tour video.
Pick Up Times & Locations
There are 5 convenient locations for passengers to board the bus for the Day Tour. Please be ready at the pickup locations 10 minutes prior to departure.
Photo Gallery
yarra valley
Day tour $165
Back to the top