yarra valley
Corporate & Social Days
Yarra Valley Wineries Group Tour
If you are looking for a day out with a difference for your corporate or social group – with beautiful scenery, great food, Australian wine and expert guides – then look no further than the Australian Wine Tour Company.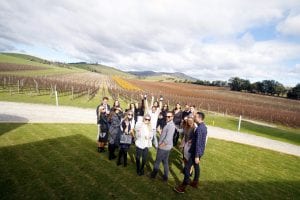 Travel in first class air-conditioned comfort and choose from our specialised tour itineraries into the Yarra Valley. These personally created and privately escorted tours are available for groups of 8 people or more. Groups below 8 people click here. With over fifteen years experience in hosting intimate and large scale events, our guidance and expertise will assure your groups a day that is not only memorable, but also great value for money. We are very happy to customise an itinerary to suit your specific needs, simply let us know you requirements and we will develop a program and tailored quote.
Even easier, select from one of our tried and tested itineraries below and match the price to your group size from the price list.
Great Idea For
Social Groups
Social and Sporting Clubs
Birthdays and Special Events
Friends & Family
Corporate
Entertaining Clients
Staff Recognition
Training and Bonding
Social and Group events
Meetings & Special Business Events
Great Value
Tours start from a low $165 per person (includes luxury coach travel, tastings, tours and lunch). Prices are subject to group size and your choice of lunch menu.
Sample Menus
Price list
Click here to see our price list
Bus Sizes
We utilize a range of vehicle sizes including 13 seater, 24 seater and 50 seater. You will find that the closer to capacity you can fill in the bus size the lowest possible price can be achieved.
While your day will be created specifically to suit your group – the following is provided for inspiration:
Wine Tastings
Get everyone in the mood with a crash course in wine tasting – swirl, sniff, slurp and taste a wine from a selection of over 120 wineries in the Yarra Valley. Our guides are passionate and knowledgeable wine experts and will happily provide information that is educational, easy to digest and most of all, very entertaining.
Guided Winery Tours
Our guides know all the best places to guide you through the winemaking process – from grape to bottle – you will view the vines, stand amidst the barrels and develop a stronger understanding of the craftsmanship that goes into the wine making process.
Lunch In A Vineyard Restaurant
There are a large variety of Vineyard Restaurants to choose from and our suggested selection are the pick of the bunch, providing the best opportunity to match your selected wines with gourmet local fare, served in the most spectacular vineyard locations. If your preference is not in our samples let us know and it shouldn't be a problem as we work with nearly all the wineries in the Yarra Valley.
Sample Itineraries
New team building activity with a bang!! Clay Target Shooting.
Include Clay Target Shooting as part of a great bonding day out in the Yarra Valley.
Click here to view the itinerary and pricing.
Tour Video
To gain a sense of what your can experience on your tour to the Yarra Valley tour check out our video.
Photo Gallery
yarra valley
Group Tour
Back to the top