Explore the Yarra Valley with Global Ballooning Australia!
Want a truly spectacular way to see the best of the Yarra Valley with Victoria's leading hot air balloon company? Then you needn't look any further than our beautiful partners, Global Ballooning Australia–
Our Yarra Valley Balloon Flight and Winery Tour Package is the absolute best of both worlds- combine a flight and wine tour in a day of truly sublime experiences.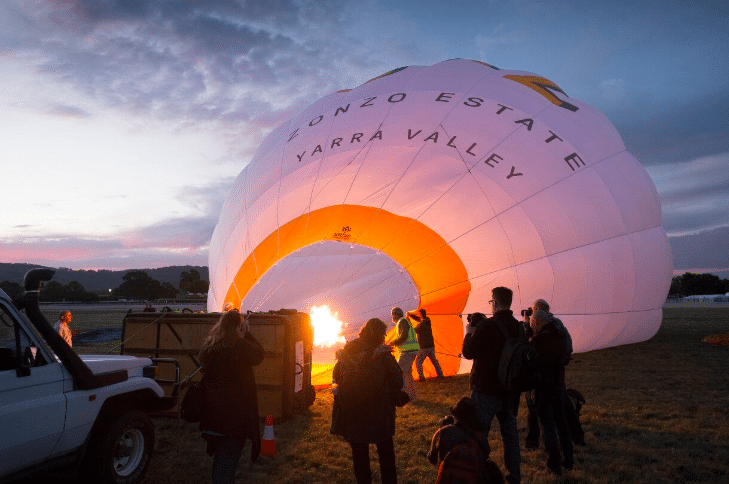 A mere 50 minutes away from the bustling CBD of Melbourne, the beautiful, serene and world-famous Yarra-Valley awaits! Steeped in rich history, even richer soil and some of the most celebrated wine varieties in the world, the Yarra Valley is a sublime place to fly over, and eventually end up having a glass of wine in!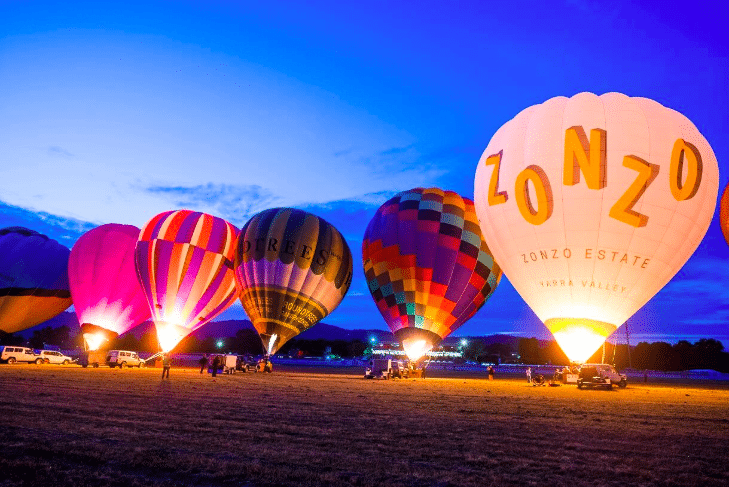 These breathtaking views are truly awe-inspiring, when soaring at 3000 feet- leaving you to enjoy a sense of timelessness and adventure, combined with the comfort of knowing that you are in safe, experienced hands.
Global Ballooning Australia is a family owned Victorian Business. We pride ourselves on our service, safety record and status as market leaders.
Melbourne is one of the few cities around the world that can be traversed by hot air balloon and definitely one of the best ways to see Australia's second largest city!
Global Ballooning Australia passengers receive a complimentary souvenir pack, which include special offers and discounts at various attractions around Victoria.
Let the cool mid-morning breeze usher you in a hot air balloon along corridors of elegant grape vines and over the stunning Yarra River. As the seasons change so do the views of the mountains and the falling leaves of all the orchard groves and valley trees.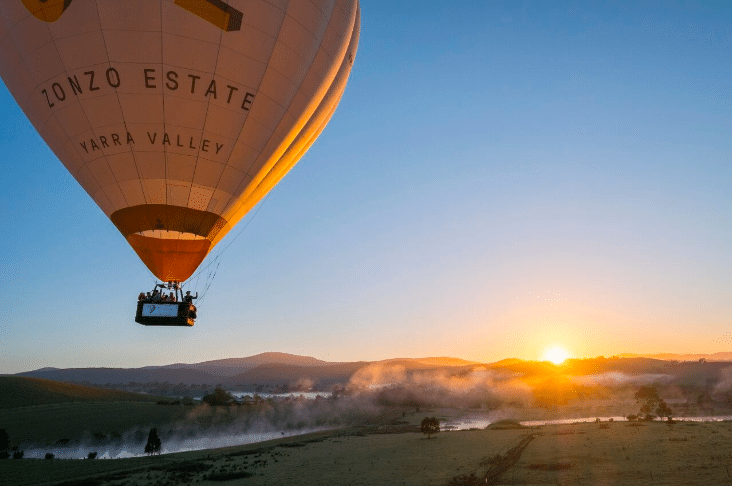 Tour Details
10:30 am
Global Ballooning transfer to Yering Station
10:45 am
Depart Yering Station Winery
Australian Wine Tour Company guide/driver will collect you from Yering Station Wines to commence the wine tour portion of the tour.
11:00am
Steels Gate Wines
Steels Gate is a boutique winery situated in a picturesque hillside setting at Dixons Creek. Their range of wines are all estate grown and estate made offering finesse and exceptional flavour. Enjoy the relaxed atmosphere which makes this the perfect place to experience delicious wines while absorbing the serenity of the Yarra Valley.
12:00pm
Balgownie Estate
Indulge in a guided tasting session at Balgownie Estate tasting table. Make your selection of wine for lunch and take your complimentary glass of wine to the restaurant with its magnificent vineyard views. Lunch includes a main meal, a glass of Balgownie Estate wine & tea or coffee.
1:30 pm
Yering Farm
The old hay shed situated at the top of the hill, overlooks stunning views, has been converted into a charming rustic Cellar Door, oozing with character. The Cellar Door proudly showcases antique copper tools used by pioneer winemakers over a century ago. A fantastic environment to enjoy superb wines made with traditional winemaking techniques.
2:15pm
Domaine Chandon
French Champagne company Moet & Chandon's Australian production house Domain Chandon is the perfect way to finish the day with a guided tour through the winery that shows how the wine is made followed by a relaxing glass of Australia's best bubbly and a view that will leave you in awe. Spectacular, to say the least.
3:30 pm
Leave Yarra Valley back to Melbourne
4:30-5pm
Return to Drop off points
**Itinerary is subject to change
Sound like something you might like? Do you have a truly special occasion coming up? Get in touch with the beautiful team at Australian Wine Tour Company today and ask about your Yarra Valley wine tour options!