What to Wear On Your Yarra Valley Wine Tasting Experience
From time to time, people ask for tips on how to dress when visiting
a wine country. Since there is so much to do in the event, it really depends on the tour. And for visitors, wine tasting is something they put at the top of their list on things to do. You may not be a wine lover, but spending some time at wineries can be a wonderful experience because nowadays, wineries have a lot to offer; not just great wine.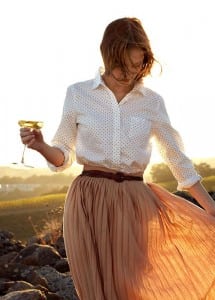 Think of beautiful gardens, tempting boutiques, splendid architecture, unforgettable food and breath-taking views; all these are fantastic reasons for you to spend some time at wineries during a visit to places such as Yarra Valley. With good time, style and comfort in mind, here are expert tips for dressing for your best ever Yarra Valley wine tasting experience.
Layer it up
This area may have micro climates, thus there can be temperature differences within some short geographical distance. Don't be surprised, as when once the sun sets, the temperatures may drop again. It is prudent to bring some kind of wrap with you when you know you will be outside at night, even in the exquisite summer time. You may want to bring with you a tank, tee or shell as a base under your jacket or sweater even when you don't know whether the weather is expected to warm up considerably or not.
---
Feel good foot wear
Some wineries do offer seated wine tastings, but most are conducted on your foot. There will be a lot of walking a side from lots of standing. Who doesn't want to explore the area such as taking a guided tour that leads one into a vineyard or traversing across the perils of a soggy green lawn? And you may also want to picnic or play a ball game of a kind after your tour.
Just leave the spiked heels behind; feel-good footwear will suffice. But heels are great too, as you can wear them out to dinner instead. Fun wine tasting does not include things such as hurting your feet, slips, or damaging your pretty shoes. And if you want some added height, you can go for the chunky, sturdy heels or wear trainers to embrace the latest sneaker chic trend.
---
Skip the lipstick
You don't want to see your wine glass slathered around the rim with some crazy lipstick. It is recommended that you take a break form lip sticks if you want to have a wonderful time wine tasting. And wine pourers won't care for it as the lipstick won't come off in the dishwasher.
---
Keep it simple
Why put on a complicated outfit? You don't want to spend your wine tasting day dealing with fussy straps, extra buttons, ties, itchy fabrics and something of the sort. Wear clothes that you will be comfortable in so as to focus on wine, wineries and of course fun!
Wondering where next to go for your wine tasting event? Yarra Valley could be your best bet. Contact us at Australian Wine Tour Co. We have over sixteen years of experience as a specialist wine tour operator to the Yarra Valley.
---