The Yarra Valley comes to Melbourne
If you want to experience the taste of the Yarra Valley without leaving the confines of the Melbourne 3000 postcode, then this is the event for you.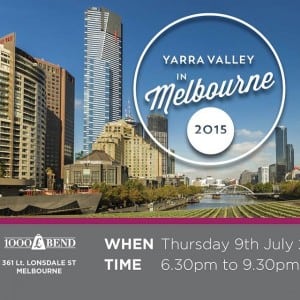 On Thursday 9th July enjoy tasting the regions sensational wines, ciders, beers & ales and gin produced in the Yarra Valley all at one central Melbourne location.
Think of it as a wine tour by night, without the bus, or the scenery. Ok, so it won't be quite as fun as touring the Yarra Valley with us, but it will be a chance to taste some of the flavours of the region without having to travel as far.
Plenty of our favourite wineries will be in attendance such as Yering Station, Soumah and Coombe, as well as many more, see the full list here:
Boat O'Craigo, Coombe Yarra Valley, De Bortoli Wines, Five Oaks Vineyards, Four Pillars Gin, Handpicked Wines, HJ Estate, Innocent Bystander, Mandala Wines, Medhurst Wines, Napoleone Cider & Brewery, Oakridge Wines, Payten & Jones, Punt Road Wines, Rob Dolan Wines, Seville Estate, Soumah of Yarra Valley, Squitchy Lane, St. Huberts Wines, St. Ronan's Cidermakers, Sunshine Creek Vineyards, TarraWarra Estate, Yarra Valley Dairy, Yering Station.
Tickets are $30 with a complimentary tasting glass to keep.