TripAdvisor Votes Australian Wine Tour Co as the 5th Most Popular Australian Tour
At the end of the financial year, TripAdvisor, the world's largest travel site for reviews and bookings announced the top ten most booked tours in Australia. Coming in at number five and ranking higher than the Great Barrier Reef, was our very own Yarra Valley Wine and Winery Tour from Melbourne.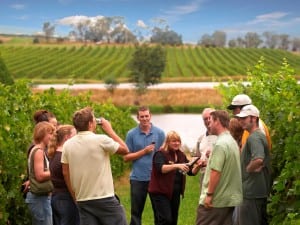 The day trip includes:
A day trip from Melbourne to the Yarra Valley
Wine tastings at four distinctive wineries
A scenic drive through the fertile Yarra Valley
Lunch with a glass of wine at Balgownie Estate or an equivalent winery
A private tour and a glass of sparkling wine at Domaine Chandon
A chance to learn the tasting technique – swirl, sniff, slurp – and then taste a variety of styles from sparkling, red, white and sweet wine
As one of only three Victorian destinations included on TripAdvisor's list of most popular tours for 2016, we're very pleased and can't wait to share this fantastic day tour with more locals and tourists alike over the next financial year.
The complete list of most booked Australian attractions include:
Sydney and Bondi Hop-on Hop-Off Tour
Great Ocean Road Small-group Eco-Tour from Melbourne
Sydney Bridge Climb
Sydney Opera House Guided Walking Tour
Yarra Valley Wine and Winery Tour from Melbourne (definitely worthy of a spot on the list – even if we're a little biased!)
Great Barrier Reef Diving and Snorkelling Cruise from Cairns
Blue Mountains Nature and Wildlife Tour from Sydney
2-Day Combo: Sydney City Tour, Sydney Harbour Lunch Cruise and Blue Mountains Day Trip
Philip Island: Penguins, Koalas and Kangaroos Day Tour from Melbourne
Green Island Day Trip from Cairns
As the home of Australia's best cool-climate wines, as well as a picturesque landscape, mouth-watering cuisine that's made from locally-grown produce, and attractions like Healesville Sanctuary, it's not surprising the Yarra Valley is a coveted tourist destination.
If you're looking at taking a coach tour around the Yarra Valley and want to experience the sights and tastes of this incredibly diverse region, talk to us today about our selection of day and weekend trips.