Beyond The Yarra – The Western Victoria Ultimate Food and Wine Escape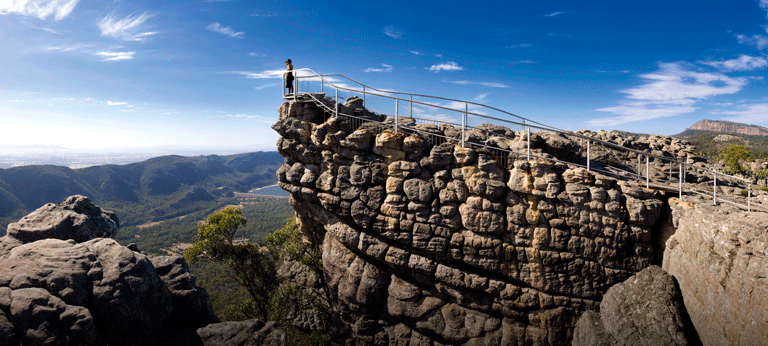 Grampians lookout
As convenient as it is to Melbourne, there's far more to Victorian wine growing than the Yarra Valley. Anyone prepared to travel a little further afield will be rewarded with majestic scenery and sparsely populated pastoral regions scattered with charming little towns and villages. One such is the Grampians, which lie about three hours' bus drive from Melbourne. As well as their beauty, the Grampians are home to some of Victoria's finest grapes, and to the winemakers who turn them into liquid treasure.
The Victorian Grampians were called Gariwerd by their aboriginal inhabitants. They received their European name in 1836 from the Surveyor-General of New South Wales, Sir Thomas Mitchell, who named them after the central of the three mountain ranges of his native Scotland, which contains Britain's highest mountain, Ben Nevis. Unlike their namesakes, the Victorian Grampians are not granite, but sandstone, the result of 40 million years of sedimentation, and of a subduction which tilted them into their present form, and gave them the rugged peaks and many waterfalls that are among their most prized attractions.
Until recently, the only way to get to know the region, its food and its wines has been to drive yourself. But Australian Wine Tour Co now offers the Western Victoria Ultimate Food and Wine Escape, a two-day tour that takes in Victorian gold rush history, overnight accommodation in preserved colonial splendour and visits to some of Australia's most respected wineries.
The Tour
Because it's a fairly lengthy drive, AWT uses a fleet of luxury private vehicles, rather than buses. Although these seat 6, larger groups can be accommodated on request, but you will always be in a private group – they don't mix them. This allows them to include a degree of choice in the itinerary that's not possible with mixed groups.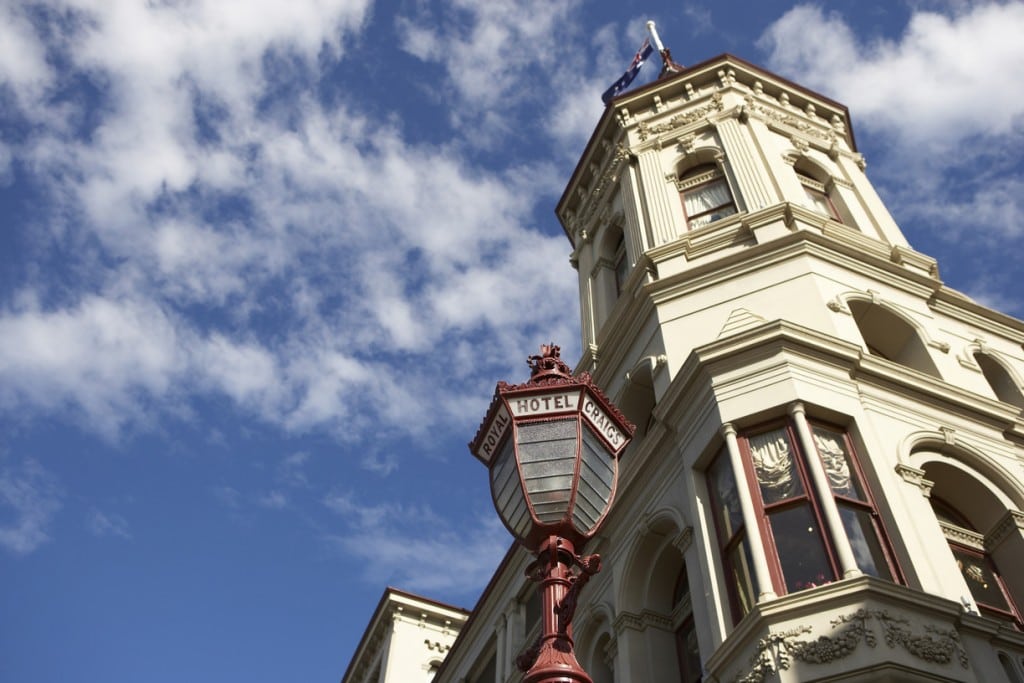 Pickup in Melbourne is at 9 am, and the choices start almost immediately, because the first stop is Ballarat. Famous for the part it played in the Victorian gold rush, Ballarat is steeped in history, and its preserved architectural grandeur includes Craig's Royal Hotel,
which, over the century and a half of its existence, has enjoyed the patronage of princes, prime ministers and poets. The scrumptious morning tea it serves is one choice.
Also in Ballarat, Mitchell Harris Wine Bar showcases the winemaking skills of John Harris, and for those who subscribe to the view that the sun is always over someone's yardarm, a glass of their sparkling best is the other choice.
Lunch at Bests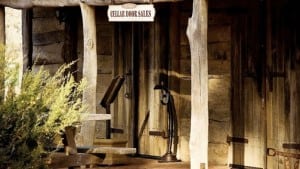 Where next? Well, this is a wine tour, and we're heading for the Grampians, home to Best's, whose vineyards and winemaking have been described by James Halliday as "among Australia's best-kept secrets". Best's is today run by the fifth generation of Bests, and boasts some of Australia's most ancient vines. They do a fine rustic hamper lunch, too, in the historic Best's cellar – and that's next on the itinerary.
The Royal Mail Hotel, Dunkeld
In the afternoon there's more choice. We're heading for the pretty village of Dunkeld – more reminders of the Scottishness of the area's first European explorers.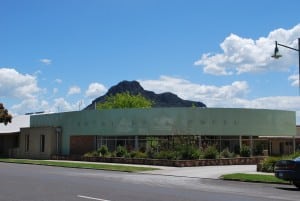 The Royal Mail Hotel in Dunkeld is your home for the night. You'll get there by late afternoon, and can then decide whether to luxuriate in the priceless ambience of this historic, award-winning hotel, with its panoramic view of the Grampians National Park, or hop back in the vehicle and let us take you up into those hills, where we've found some stunning lookouts.
After freshening up, it's time to discover the real reason we've chosen the Royal – dinner. The hotel has earned two hats from the Age Good Food guide, and it deserves them – its menu is dictated by what's available locally in the season and from its own kitchen garden, and they have created an 8 course tasting menu; matched, naturally, to selected local wines.
Next morning we recommend a walk to sharpen the appetite, and perhaps make friends with some of the local fauna. Breakfast is a la carte, and is followed by a guided tour of the Royal's celebrated kitchen garden. Before leaving, though, you'll have the privileged opportunity to raid the Hotel's peerless cellar, which contains what the experts say is one of Australia's finest collections.
Mount Langi Ghiran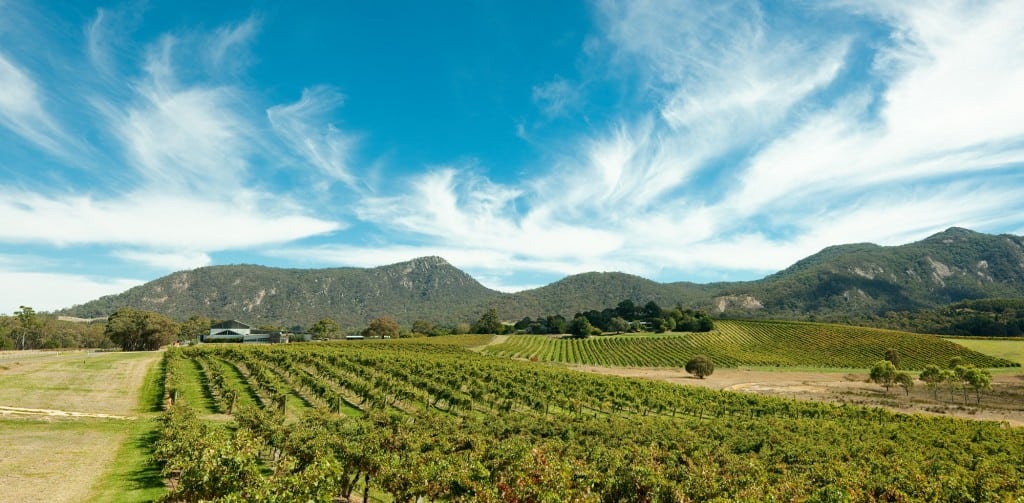 We head for Mount Langi Ghiran, a fine example of a winery that tells an important part of the history of Victorian wines. Many are surprised to learn just how vigorous the wine industry was in the 19th century. In fact, Victorian wines were winning international acclaim by the turn of the 20th century. Mount Langi's vineyards were part of that early industry, until the phylloxera mite and world economic depression combined to all but kill Victorian winemaking. Then in 1963 the Fratins, immigrants from Veneto, replanted the vineyards at Mount Langi Ghiran, and found that the soil had lost none of its grape-growing mojo. Their signature vintages are their Shirazes, but they also make fine Pinot Gris and Riesling vintages.
Lake House – Daylesford
After we drag ourselves away from the Mount Langi Ghiran cellar door, and make our way to Lake Daylesford, where the chef at the renowned Lake House has been preparing our 3-course lunch. Lake House is owned by Allan Wolf, an artist whose work can be viewed before and after lunch.
After an unforgettable weekend, it's back into the vehicle, which will drop you back in Melbourne by about 5pm.